Professional Installation Services for Pre-Fabricated Steel Buildings
ASM Steel Buildings specializes in the installation of pre-fabricated and pre-engineered steel buildings. Our installation process adheres to a rigorous quality assurance and quality control (Q.A.Q.C.) program to ensure impeccable results. We understand that proper installation plays a critical role in preventing major defects in a building.
At ASM Steel, safety is our utmost priority. We carry out installations with complete safety precautions and provide all necessary safety gear on-site. This commitment enables us to maintain casualty-free sites throughout the installation process.
With ASM Steel Buildings, you can trust that experienced professionals who prioritize customer satisfaction will handle your project. Our installation services encompass various sectors, including industrial, commercial, aviation, military, and institutional buildings.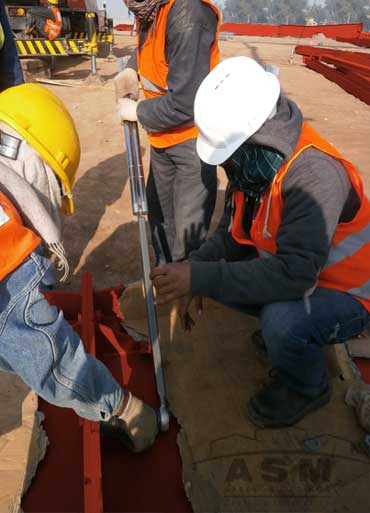 We carry out the installation with complete safety precautions along with a very strict quality control program. Complete safety gears are guaranteed on site which enables us to have casualty-free sites.
We specialize in steel structures that offer numerous advantages. Our buildings are lightweight, cost-effective, environmentally friendly, and energy-efficient. They are designed to be safe, well-ventilated, and resistant to earthquakes and other seismic activities. We offer packages suitable for small-scale projects as well as large-scale ventures.
We focus on the minor as well as the major details during installation. Strict quality assurance and quality control plans are observed that focus on all aspects of the installation.
Choose ASM Steel Buildings for efficient, cost-effective, and reliable steel construction solutions. Experience the benefits of our high-quality metal structures and trust our team to handle your project with professionalism and expertise.